Dental Implants in Leicester
If you're looking for affordable and long lasting dental implants in Leicester from an expert implantologist, our state-of-the-art clinic can help.
Our highly skilled dental implant dentist Dr Jayesh Patel has over 34 years extensive dentistry experience, an Implantology MSc Master's degree and has trained with some of the world's leading clinicians in Implantology.
As a result of his experience, he has an extensive breadth of knowledge in this field and can examine you to gauge if you are a suitable candidate for implants, or if another solution could be more suitable.
All our dentists at Forest House Dental are members of the General Dental Council (GDC) and our clinic is monitored and regulated by the Care Quality Commission (CQC) so you can be rest assured you are in safe hands with our team.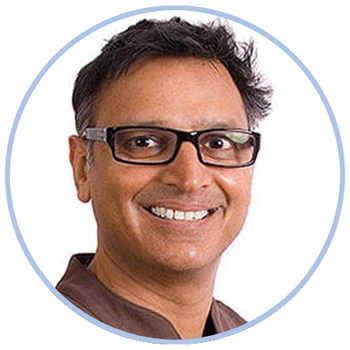 Meet our dental implant surgeon
GDC Number: 61883
With over 34 years extensive dentisty experience, Dr Jayesh Patel gained his Bachelor of Dentistry from King College of Medicine and Dentistry, London in 1986. During the nineties, Jay turned his attention to a new field in dentistry – dental implants.
Having undertaken his training at the prestigious Eastman Academy in London, he later gained his Master's Degree in Dental Implantology at the Charles Clifford Dental Institute.
Passionate about dentistry, Jay has been involved in teaching and training dental colleagues in the field of implants. Jay is a member of the Association of Dental Implantology (ADI), British Academy of Cosmetic Dentistry (BACD) and the American Academy of Cosmetic Dentistry (AACD).
Dental implants cost
If you're looking for some of the cheapest dental implants in Leicester from a highly rated and experienced implantologist then we can help.
To help keep this treatment as affordable as possible, we ensure our implant prices are extremely competitive compared to other expert implant dentists in Leicester.
Our prices start from £2,500 with the price per implant getting cheaper as more implants are required.
| Implant treatment | Price (From) |
| --- | --- |
| Implant Single Placement | £2,600 |
| Implant Retained Bridge | £2,800 |
| Bone Graft | From £395 |
| Full Arch Implants | £12,000 |
| Full Mouth Implants | £22,000 |
See our implant costs FAQ below for further help.
Replace your missing teeth with natural looking implants
A dental implant is a small titanium fixture that is placed in the jaw bone to replace a missing tooth. The fixture can then hold a crown, a bridge or a denture.
Dental implants can be used to replace:
one missing tooth,
many or all missing teeth,
to improve the fit of a loose denture.
Example of our dental implant work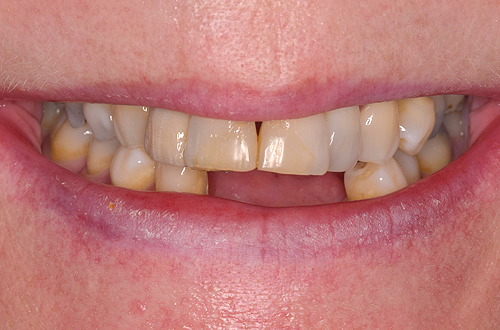 Before dental implants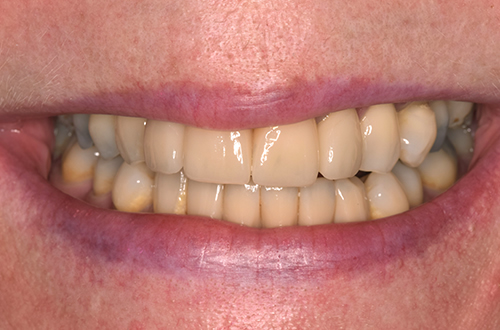 After dental implants
Our latest Leicester dental implant reviews
"From the initial consultation through to completing the implant and then the follow up after care, has all been very professionally delivered. Implants are not cheap and not a light decision, however the level of service provided coupled with personal the attention both from Adam and Sarj and quality of the work and materials has made the process absolutely worthwhile.
Both myself and my wife have now used this service to complete satisfaction, and would recommend Forest House Dental to both family and friends."

"I decided to book a consultation with Dr Patel as I thought my teeth were crooked, damaged and discoloured and wanted to improve the appearance. After my consultation we decided that Implants and Veneers would help me achieve the smile I wanted.
I had extractions upper and lower ready for my implants. Once the implants were fitted I then had a bridge fitted over the implants and also veneers on my upper front teeth. It was worth all the time and effort for the smile I now have. I feel my smile is much better and all the staff were fantastic throughout and addressed all of my concerns throughout my treatment journey.
I would recommend anyone if they are thinking about improving their smile to do so, it is so important for mental attitude."
Christine Gay
Full mouth implants before and after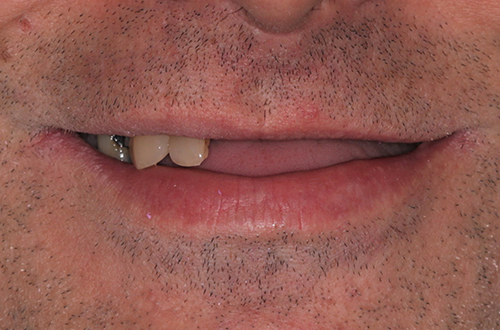 P. Mitchell before implants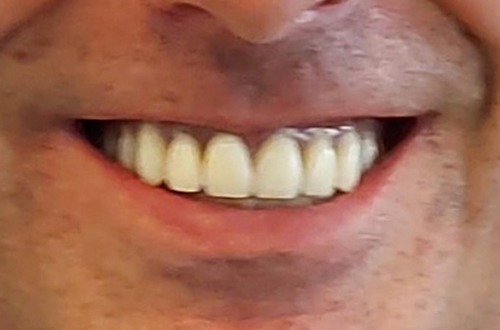 P. Mitchell after implants
See our full mouth implants page for more information on our same day full mouth / All on 4 / All on 6 treatments.
Video Q&A on implantology
Implant testimonial by M. Noble
Dental implants - frequently asked questions
We have ensured our prices are extremely competitive compared to other Leicester dentists. Our dental implants therefore start from £2,500.

Prices will become cheaper if more implants are needed (please note that that the abutment and crown are not included in this price and will be charged depending on the level of quality).

The total fee for tooth replacement with dental implants will depend on several factors, including the number of teeth being replaced and the number of implants required to support your replacement teeth.

It is important for you to know that you do not necessarily need an implant for each missing tooth.

Some additional procedures may be required prior to the placement of your dental implants to ensure the long-term health of your dental implants.

To obtain a specific fee estimate, it is necessary that we examine your mouth. After a diagnostic examination, we will recommend the treatment that is best for you and what your investment would be for the procedure.

Most patients above the age of 18 can have implants. Sometimes older patients are worried they are not suitable to receive this type of treatment because of their age.

The most important factor in deciding whether you are a suitable candidate for implants is your health and not your age.

At your initial consultation, we will go through your medical history and dental history. We can then carefully evaluate whether you are a suitable patient and create the best treatment plan to meet your needs.

Most of the dental implants we place are carried out through 'keyhole' type procedures that incur little or no discomfort at all. Different types of anaesthetic is used to eliminate any discomfort during treatment.

If you feel too nervous, you can also consider having IV sedation to put you in a more relaxed state during the treatment.

We can also arrange for you to speak to patients who already have received the treatment if you wish more reassurance.

Dental implants are the gold-standard way of replacing missing teeth. Implants will feel and look like natural teeth.

Not only will they improve your appearance, but also your chewing ability will greatly benefit from this type of treatment.

Treatment time will vary depending on your particular situation. Some simple cases can take only a few months, the time required for the implant to integrate with your jawbone.

Some more complex cases can take longer.

This depends on your particular case. Usually the maximum time required without teeth will be 1-2 weeks.

But in the majority of cases we will provide you with a temporary solution if you should so wish.

Yes, you can. We offer financing plans to help our patients spread the cost over a number of months.

It won't make the implant prices any cheaper but it just means you can spread the cost over an agreed period. We have a number of schemes to help you.

Call us on 0116 289 8888 for more information.

Would you shop around for cheaper heart surgery? We are aware that implants are offered at a cheaper price abroad.

We understand that often implant treatment is carried out abroad over a shorter period of time. However this means there is not enough time for the implants to integrate which can increase the chance of failure.

Dental implants have been shown to last over 10 years in 95% of cases. We have every indication that they can last for much longer.

Most patients can expect them to last as long as natural teeth with correct maintenance.

The first patient received his dental implants more than 50 years ago and they are still functioning today.

Yes! Maintaining care of the implants will help to assure the long-term success of your treatment. You will be responsible for daily plaque removal, which can be accomplished through brushing and flossing around your restoration.

Our hygienist and I will show you how to properly care for your implants. You should visit the hygienist every three months if you want your implants to last a long time.