Teeth in a Day Leicester (Full Mouth Implants)
✓ Same day teeth ✓ Stunning results ✓ Natural looking ✓ Long lasting
Our highly skilled full mouth dental implant dentist Dr Jayesh Patel has over 34 years extensive dentistry experience, has an MSc Master's degree in Implantology and has trained with some of the world's leading clinicians in Implantology.
As a result of his experience, he has an extensive breadth of knowledge in this field and can examine you to gauge if you are a suitable candidate for implants, or if another solution could be more suitable.
A set of four to six dental implants (also known as All-On-4 or All-on-6) replace a whole arch of missing teeth and can be fitted on the same day. You might also hear this treatment called teeth in a day, full mouth dental implants or smile in a day.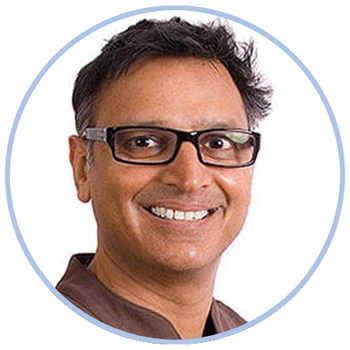 Meet our dental implant surgeon
GDC Number: 61883
With over 34 years extensive dentisty experience, Dr Jayesh Patel gained his Bachelor of Dentistry from King College of Medicine and Dentistry, London in 1986. During the nineties, Jay turned his attention to a new field in dentistry – dental implants which has now expanded to include teeth in a day / same day teeth / All on 4 / All on 6.
Having undertaken his training at the prestigious Eastman Academy in London, he later gained his Master's Degree in Dental Implantology at the Charles Clifford Dental Institute.
Passionate about dentistry, Jay has been involved in teaching and training dental colleagues in the field of implants. Jay is a member of the Association of Dental Implantology (ADI), British Academy of Cosmetic Dentistry (BACD) and the American Academy of Cosmetic Dentistry (AACD).
Full mouth dental implants cost
To help keep this treatment as affordable as possible, we ensure our implant prices are extremely competitive compared to other expert implant dentists in Leicester.
Our implant prices start from £2,500 with the price per implant getting cheaper if more implants are required.
| Implant treatment | Price (From) |
| --- | --- |
| Bone Graft | From £395 |
| Implant Single Placement | £2,500 |
| Implant Retained Bridge | £2,800 |
| Full Arch Implants | £12,000 |
| Full Mouth Implants | £22,000 |
Why choose us for full mouth implants?
We are able to transform people's lives from having no teeth, or a set of failing loose teeth, to a fixed set of replacement teeth on implants.
Could anything be more life-changing or offer greater value for money?
We have invested in state of the art implant protocols that allow for a rapid and complete treatment with only very limited discomfort reported in the large number of cases we have treated. Our case success rate currently stands at 100%.
We have made it possible in many cases to remove the failing teeth, place the implants, and then build a fixed bridge to screw securely into the implants. This can be carried out under local anaesthetic or IV sedation for very nervous patients.
Patients frequently report being surprised at the lack of any discomfort or even swelling. Those cases that do have some swelling or discomfort are easily controlled with standard pain relief.
Example of our full mouth implant work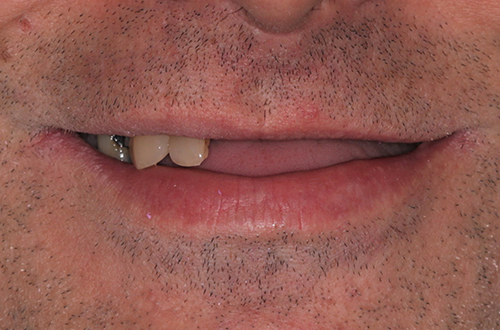 P. Mitchell before implants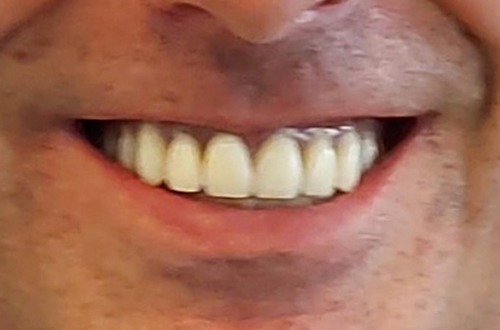 P. Mitchell after implants
Full mouth implant testimonial by P. Mitchell
How to choose the right implant treatment
One of the most important parts of this treatment occurs in the planning stages, when you will be taken through all aspects of your treatment. You will have a full assessment (covering both dental and medical aspects), 3D imaging, model planning, and detailed design, prior to any treatment being started.
You can be assured of our thorough and exemplary service throughout. You will find a variety of treatment options available on the internet for this, but take care and examine each very carefully – the adage 'if it sounds too cheap, it probably is' comes into play here.
There are just so many aspects of this complex form of implant dentistry to consider, from the training of the surgeons and restorative team, to the quality of the lab work and technicians involved, and the time allowed to complete the treatment.
Most importantly there are few implant systems that have the detailed and extensive research showing that they will last the test of time and chewing. It is always possible to use copy implants and cheaper components, but this is something we will never allow at our clinic.
Our treatment ensures you will be cared for long-term, with on going follow-up appointments at the centre, ensuring a happy life away from the nightmares of dentures and painful failing teeth.