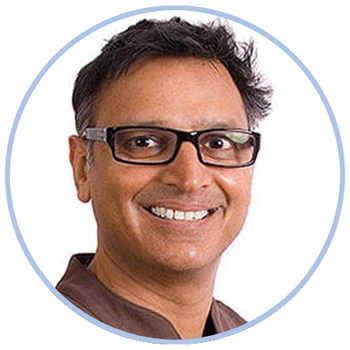 Dr Jayesh Patel - BDS M-MedSci (Implantology)
Implant Surgeon - GDC Number: 61883
Background & Experience
Dr Jayesh Patel gained his Bachelor of Dentistry from King College of Medicine and Dentistry, London in 1986. He worked in general practice with an emphasis on cosmetic work, placing his first porcelain veneers and undertaking teeth whitening procedures over 25 years ago. During the nineties, Jay turned his attention to a new field in dentistry – dental implants.
Having undertaken his training at the prestigious Eastman Academy in London, he later gained his Master's Degree in Dental Implantology at the Charles Clifford Dental Institute.
Passionate about dentistry, Jay has been involved in teaching and training dental colleagues in the field of implants.
Jay is a member of the association of Dental Implantology, British Academy of Cosmetic Dentistry and the American Academy of Cosmetic Dentistry and continues to further his professional development, which has previously seen him travel to North America and Europe, ensuring his knowledge is passed onto patient and colleagues alike, assuring them that they are in good hands.