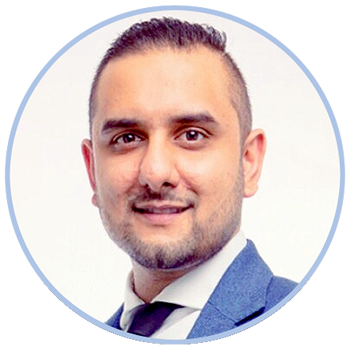 Dr Adam Patel Dental & Implant Surgeon, BDS MSc MFDS RCS Ed MFDS RCPSG PGCert O.Surg
GDC Number: 149882
Dr Adam Patel is the visiting referral clinician at Forest House Dental Practice. He provides Oral Surgery, implant treatment and full mouth reconstructions.
Having graduated from the well distinguished University of Liverpool, he embarked on a multitude of postgraduate courses in restorative, prosthodontics and oral surgery. He is one of a select few clinicians nationwide to hold a prestigious Master's degree in Implantology awarded by The University of Manchester. He has also completed Diploma's from various other institutes including the esteemed Royal College of Surgeons of Edinburgh and The Royal College of Physicians and Surgeons Glasgow.
He has spent copious amounts of time sourcing knowledge both nationally and internationally, training with some of the most respected Implantologists in the world, with the aim of achieving goldstandard treatment outcomes for his patients. His endeavours have earned him vociferous recognition from several of the leading clinicians within the country. He was recently personally invited to meet the founding father of Implantology the late Professor P-I Brånemark at his home in Sweden.
He regularly contributes clinical articles to journals and magazines, authors a health column within the Leicester Mercury newspaper and sits on the editorial board for a dental publication. He recently completed the most up to date research on management of peri-implantitis and continues to work with clinicians throughout the country in the field of research to help develop the field of implant surgery.
Over the past few years Dr Patel has been involved in various research projects, including a study on Oropharyngeal cancer which led him to Hong Kong as well as a study on peri-implantitis (disease associated with dental implants). He recently spent time in East Africa providing essential oral health education to less fortunate third world communities and doing a charity walk along the Great Wall of China.
His personal interests include being an avid football fan, keeping physically active, exploring Earth and time permitting scuba diving. However, his main passion lies with his love for the wildlife. Recently he trekked through the Impenetrable African rainforest in search of the elusive mountain gorilla and helped contribute to the project that aims to save the gentle giants on the brink of extinction.
Dr Patel has won multiple awards for his surgical work as well as winning prestigious honours in such as Best Young Dentist (Midlands) in 2015 and 2016.