Root Canal Treatment in Leicester
If you're looking for expert and affordable "root canal near me" in Leicester from a highly rated dentist, our modern and friendly clinic can help.
All our dentists at Forest House Dental are members of the General Dental Council (GDC) and our clinic is monitored and regulated by the Care Quality Commission (CQC) so you can be rest assured you are in safe hands with our team.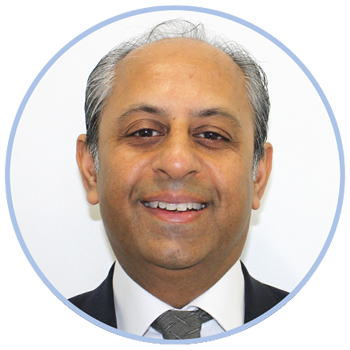 Meet our root canal surgeon
GDC Number: 65530
With over 23 years extensive dentisty experience, Dr Sarjoo Patel is the practice principal and a dental surgeon. He completed his Bachelor's degree in Dental Surgery from the University of Manchester in 1990.
Having worked as an associate dentist in Leicester for 10 years, he gained valuable experience in general dentistry before becoming the principal and practice owner at Forest House in November 2000.
Sarj likes to remain up-to-date with advanced developments in Dentistry through CPD sessions and attending courses.
He has a special interest in root canal treatments, cosmetic treatments such as teeth whitening, dental crowns, composite bonding, veneers and implants and has completed many courses over the years to keep abreast on these topics.
Root canal costs in Leicester
Benefit from some of the most effective and affordable root canal treatment in Leicester, from a highly rated and experienced dental surgeon.
To help keep this treatment as affordable as possible, we ensure our root canal prices are extremely competitive compared to other expert root canal dentists near us in Leicester.
Our prices start from £400 for an Incisal Canine root canal treatment.
| Root canal treatment | Price (From) |
| --- | --- |
| Root Canal - Incisal Canine | £400 |
| Root Canal - Pre Molar | £424 |
| Root Canal - Molar | £580 |
| Re-Root Canal Treatment | (additional charge) £115 |
The advantages of root canal treatment
Root canal treatment saves teeth that would otherwise have been extracted. After root canal treatment the tooth is pulp-less i.e. it has no vital tissues within. However, there are vital tissues surrounding the root e.g. the gum, periodontal membrane and supporting bone.
A root canal treated tooth can function normally and can be maintained with routine dental care and oral hygiene measures.
What is root canal treatment?
Root canal treatment involves the removal of the pulp tissues from the tooth in the event that it gets infected or inflamed.
The pulp can be infected or inflamed due to either deep decay or an extensive restoration that involves the pulp, cracked or fractured tooth due to trauma, excessive wear of enamel and dentine exposing the pulp, and sometimes as a result of severe gum disease.
If pulp inflammation or infection is left untreated, it can eventually cause pain, swelling and loss of the supporting bone.
When is root canal treatment needed?
A root canal treatment is needed when the pulp has been damanged by bacteria. The pulp may become inflamed if it's infected by bacteria, allowing the bacteria to multiply and spread.
Symptoms of a pulp infection include:
A loose tooth
Pain when chewing, talking or biting
Pain or sensitivity when eating or drinking hot or cold food and drinks
Swelling of the gum around the tooth or area of sensitivity
Pus oozing around the tooth
A swallen cheek or jaw
Discolouration of the tooth
Root canal treatment - frequently asked questions
Root canal is necessary if you've had x-rays that show the pulp has been damanged by a bacteria infection. If you're worried that you may have an infection, speak to one of our member of staff about a consultation.

Root canal treatment procedures are relatively comfortable and often painless as the tooth is anaesthetised during treatment. After treatment, the tooth may be sensitive or tender for a few days due to inflammation of the surrounding tissues.

Root canal removes the infected pulp from your mouth. If you do not undergo treatment, the consequences can be severe. If left untreated, the bacterial infection can spread to the jaw, brain, blood and rest of the body.

Treatment time will vary depending on your particular situation. However most of our treatments last between 30-60 minutes.

Yes, you can. We offer financing plans to help our patients spread the cost over a number of months.

It won't make the root canal treatment prices any cheaper but it just means you can spread the cost over an agreed period. We have a number of schemes to help you.

Call us on 0116 289 8888 for more information.