The main benefits of choosing dentures
Improved appearance: Dentures can help to restore your smile and make you look and feel more confident.
Improved chewing ability: Dentures can help you to chew food more effectively, which can improve your overall health.
Prevention of bone loss: Dentures can help to prevent bone loss in the jaw, which can help to maintain your facial structure.
Speech improvement: Dentures can help to improve your speech, making it easier for you to communicate clearly.
Comfort: Dentures that are properly fitted can be very comfortable to wear.
Affordability: Dentures are a relatively affordable option for replacing missing teeth.
Of course, there are also some potential drawbacks to consider before getting dentures. These include:
Need for regular maintenance: Dentures need to be cleaned and cared for regularly to prevent them from becoming damaged or infected.
Risk of gum irritation: Dentures can sometimes irritate the gums, especially if they are not fitted properly.
Temporary discomfort: It can take some time to get used to wearing dentures, and there may be some temporary discomfort during the adjustment period.
Overall, dentures can be a great way to replace missing teeth and improve your quality of life. If you are considering dentures, be sure to talk to your dentist about the benefits and risks to decide if they are right for you.
Further information about dentures:
There are two main types of dentures: full and partial. Full dentures replace all of the teeth in the upper or lower jaw, while partial dentures replace some of the teeth.
Dentures can be made of a variety of materials, including acrylic, metal, and porcelain.



Acrylic dentures are the most common type of denture, and they are relatively affordable.
Metal dentures are more durable than acrylic dentures, but they are also more expensive.
Porcelain dentures are the most natural-looking type of denture, but they are also the most expensive.

The cost of dentures varies depending on the type of denture, the materials used, and the dentist's fees. Full dentures typically cost more than partial dentures.
Dentures need to be cleaned and cared for regularly to prevent them from becoming damaged or infected. You should brush your dentures with a soft-bristled toothbrush and denture cleaner twice a day. You should also soak your dentures in a denture cleaner solution overnight.
Dentures can last for many years if they are properly cared for. However, they may need to be relined or replaced every few years as your gums change shape.
How long does it take to make dentures?
Depending on the complexity of each case, the duration of the treatment will vary. After the initial visit of examination and diagnosis, the subsequent visits will include taking impressions of the mouth, bite registration, try-in of the denture, fitting and review.
What does it feel like to wear dentures?
New dentures always feel strange when first placed in your mouth. Several days or weeks will be required before you get accustomed to them.
Adaptation varies with different persons and often time and experience are essential before dentures can be worn comfortably and function effectively.
Useful suggestions to help you to adapt to the new dentures:
Eating – Eating will take a little practice. Start with soft foods and foods cut into small pieces will help. Chew slowly using both sides of your mouth at the same time to prevent dentures from tipping. Once you become accustomed to chewing, include other foods until you return to your normal diet.
Increased salivary flow – You may experience an increase in salivary flow when the dentures are first inserted. This is a natural response of the salivary glands that will return to normal after a few weeks. You can improve the situation by swallowing more often.
Speech – New dentures may alter your speech initially. Pronouncing certain words may require practice. Reading out loud and repeating troublesome words will speed up the adaptation process. This problem rarely persists beyond two weeks.
Sore spots – Minor irritation caused by surface irregularities or pressure spots on the denture-bearing areas are quite common. Your dentist will relieve the discomfort by adjusting the denture surface. Stop wearing the denture if the irritation is very painful. Consult your dentist immediately.
Cobalt chrome dentures
These are cast metal dentures generally considered to be the more permanent partial denture unlike plastic partial dentures. These are clipped to the natural teeth with clasps and most importantly incorporate rests on the teeth.
The clasps hold the denture firm and the rests stop any damaging up and down movement.
Examples of our denture work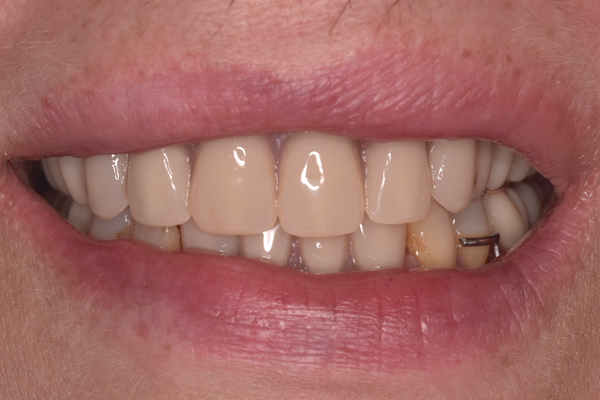 After Dentures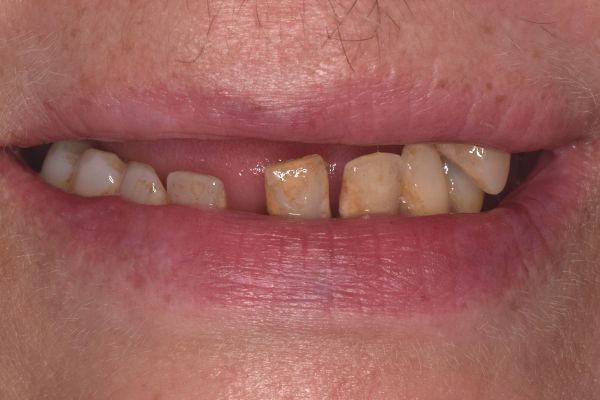 Before Dentures